New admin interface for management of Madyar Collection's restaurants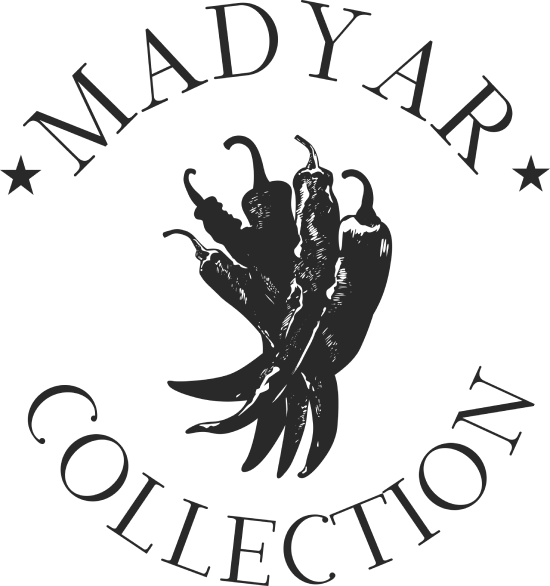 MADYAR COLLECTION
New admin interface for managing restaurants. Convenient website admin panel, which increases inner workings efficiency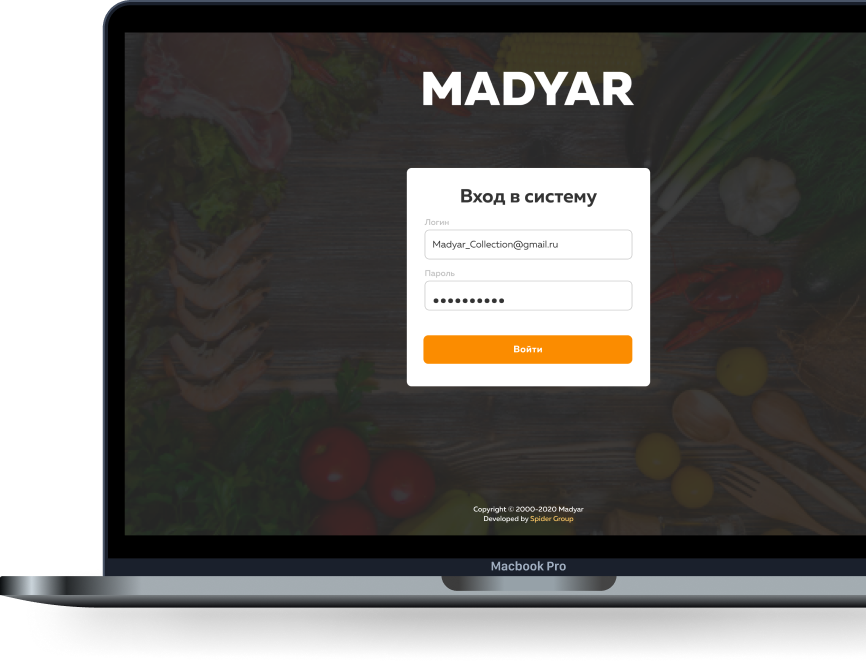 The task
To develop an admin panel for managing the network of restaurant businesses with delivery. The interface should be obvious to each employee without extra training and show restaurants' statistics for the management in order to track performance over time.
Allocating roles
To manage content separately, each employee has different levels of access within their area of responsibility:
Restaurant Manager manages data for one or more restaurants, including kitchen menus. The manager has access to restaurant guest reviews, feedback on delivery, food quality, and reservation requests
The marketer manages the section with marketing activities. This is the realm of promotions, news, bonuses, promo codes, discount cards, certificates, and push notifications that instantly delivers fresh offers to customers
The operator works with orders and can advise on prices, ingredients, serving, make combo sets, apply discounts to carts, tell time and cost of delivery to a specific address
The admin is the user with the most extensive capabilities. He or she has access to all sections of the admin panel, including the statistics section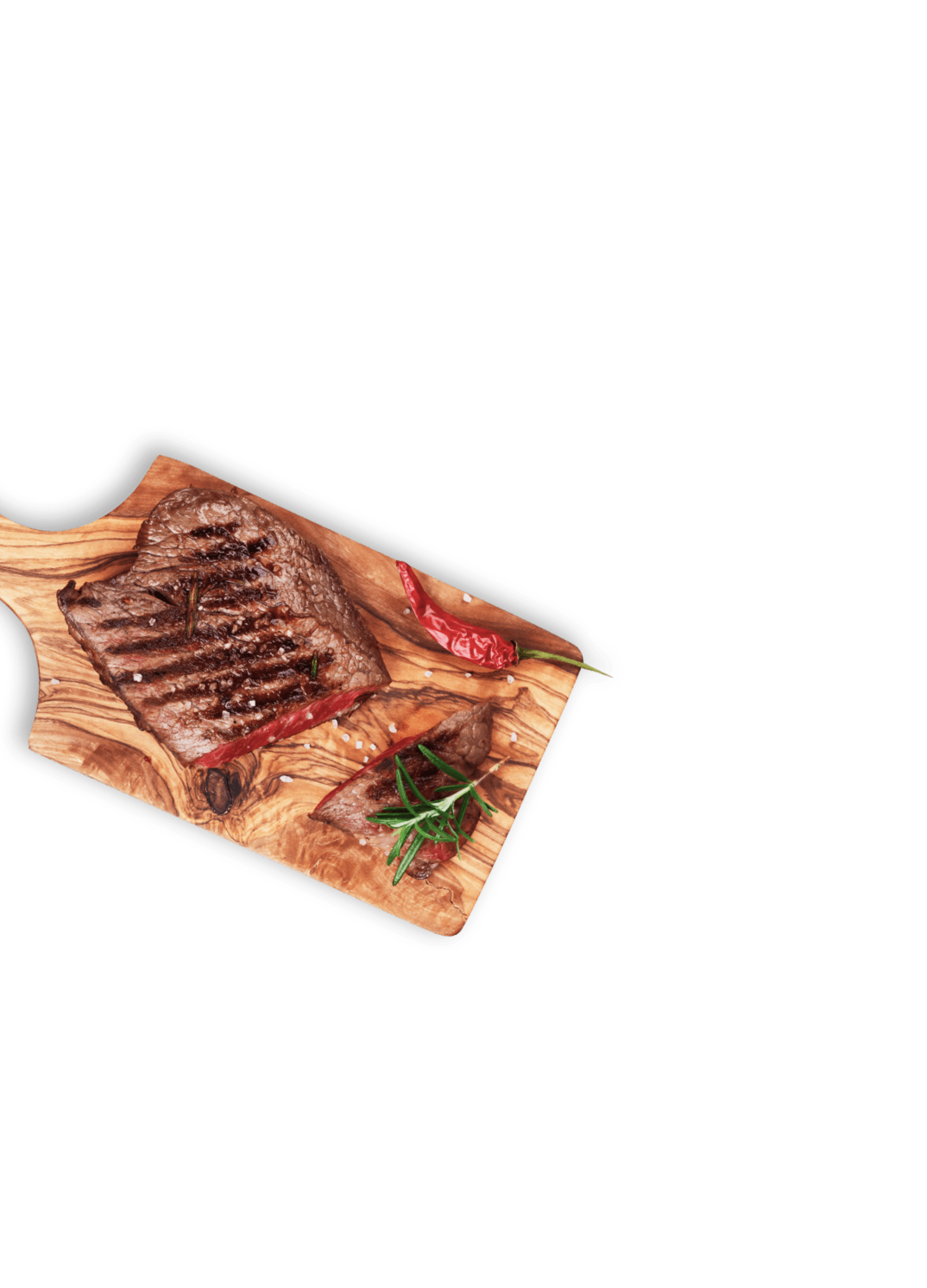 The world of restaurants
The most important part of a delivery service is the restaurant interaction interface. Companies' managers acquaint clients with advantages and work peculiarities of each restaurant here.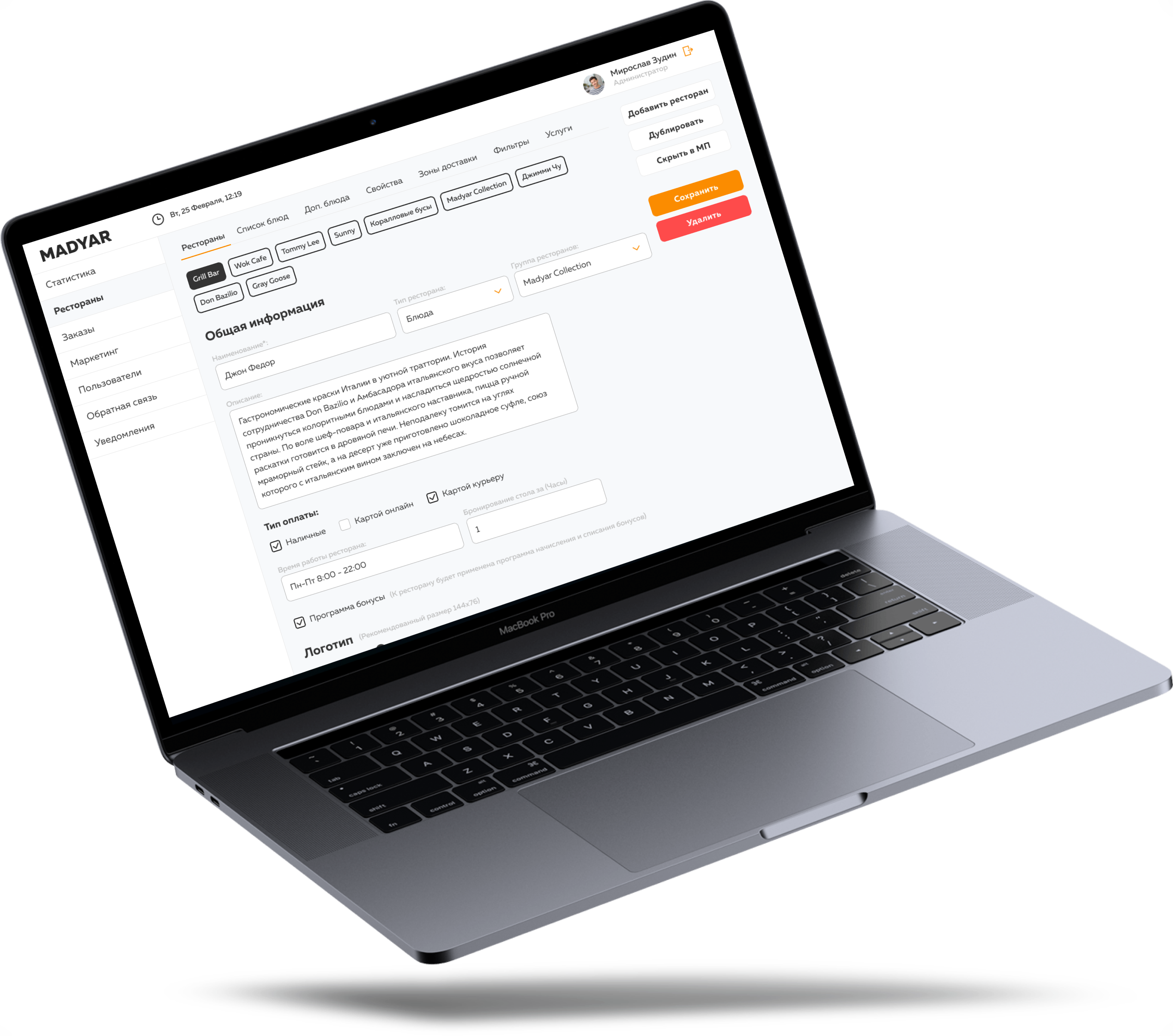 The main tab of the "Restaurants" section contains information about all places available to the manager: names and descriptions, logos, photos, as well as parameters such as schedule, delivery prices depending on the locations, discounts for pickup and contacts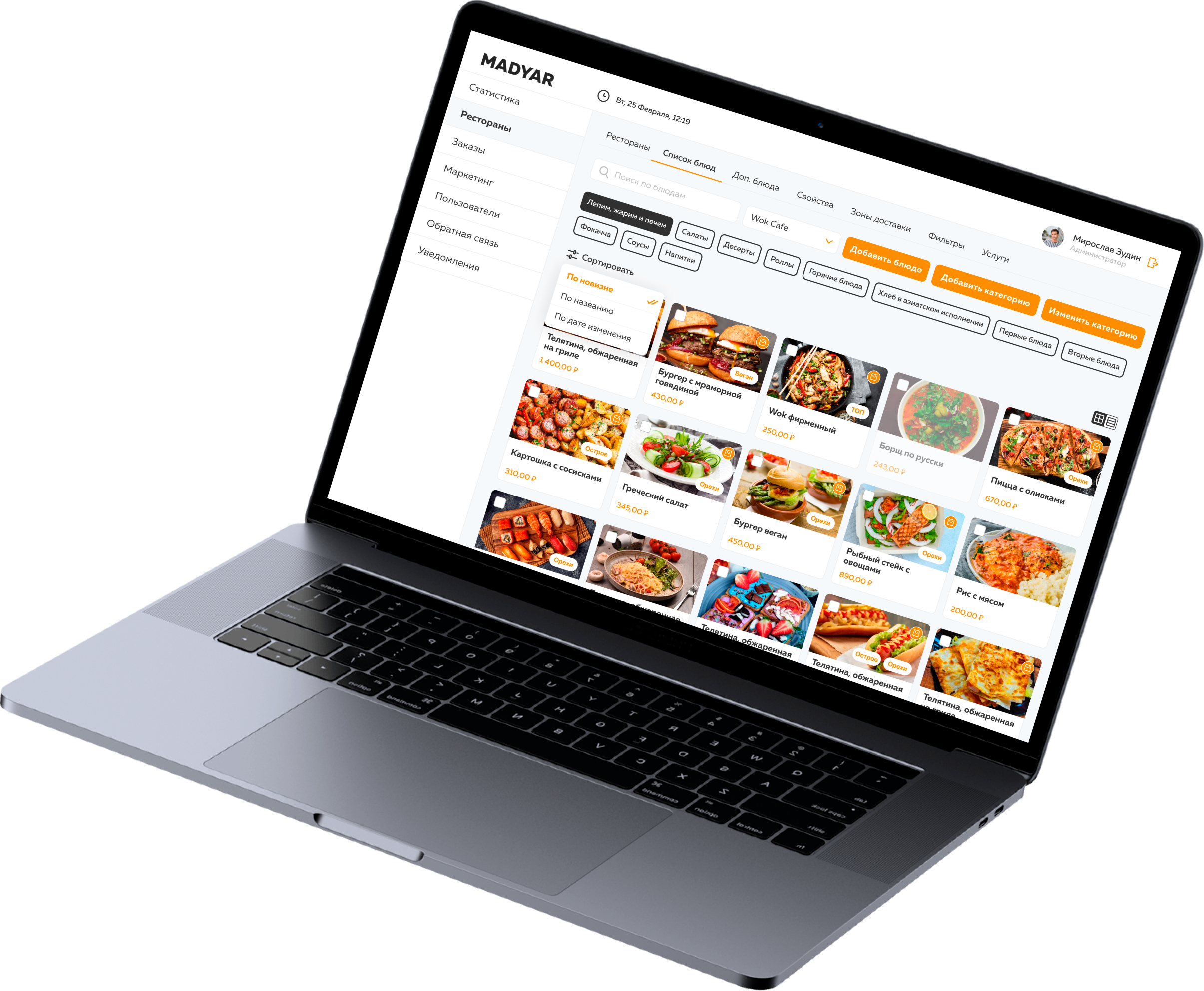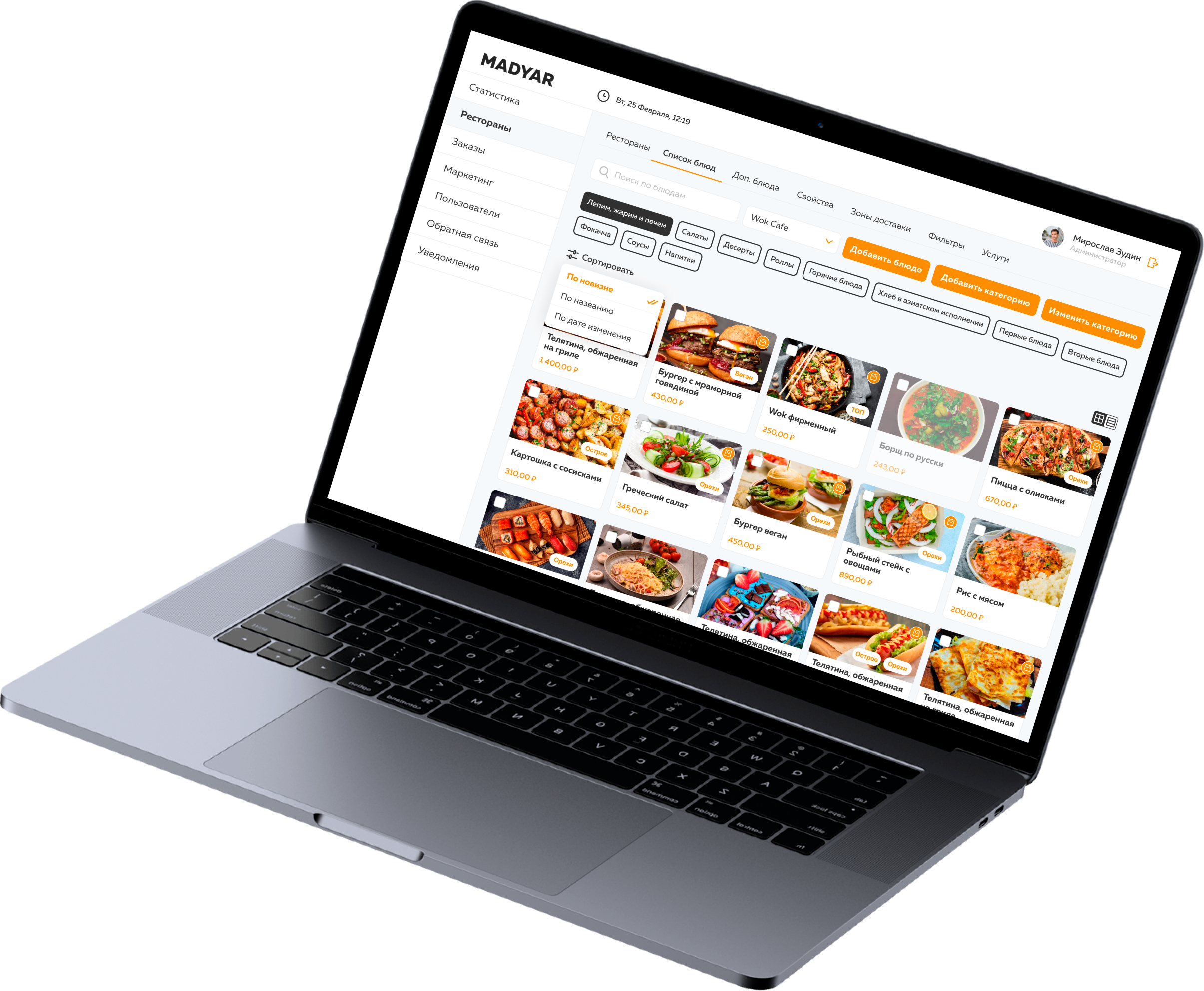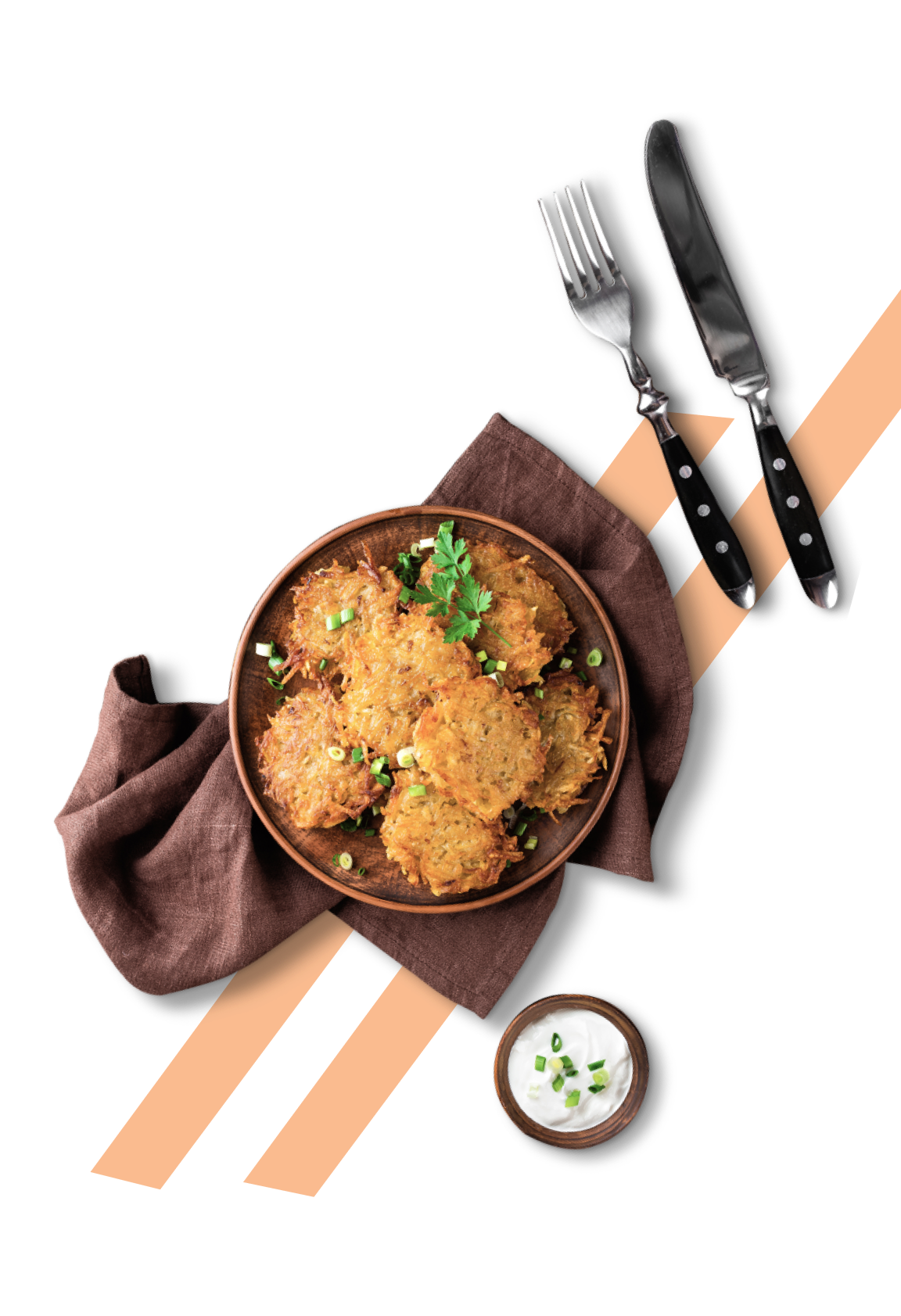 The following tabs contain detailed menus about each restaurant with the creation of dishes and categories, setting up ingredients, search, prices and quick access buttons to useful functions of the cabinet
The manager can create delivery zones and additional services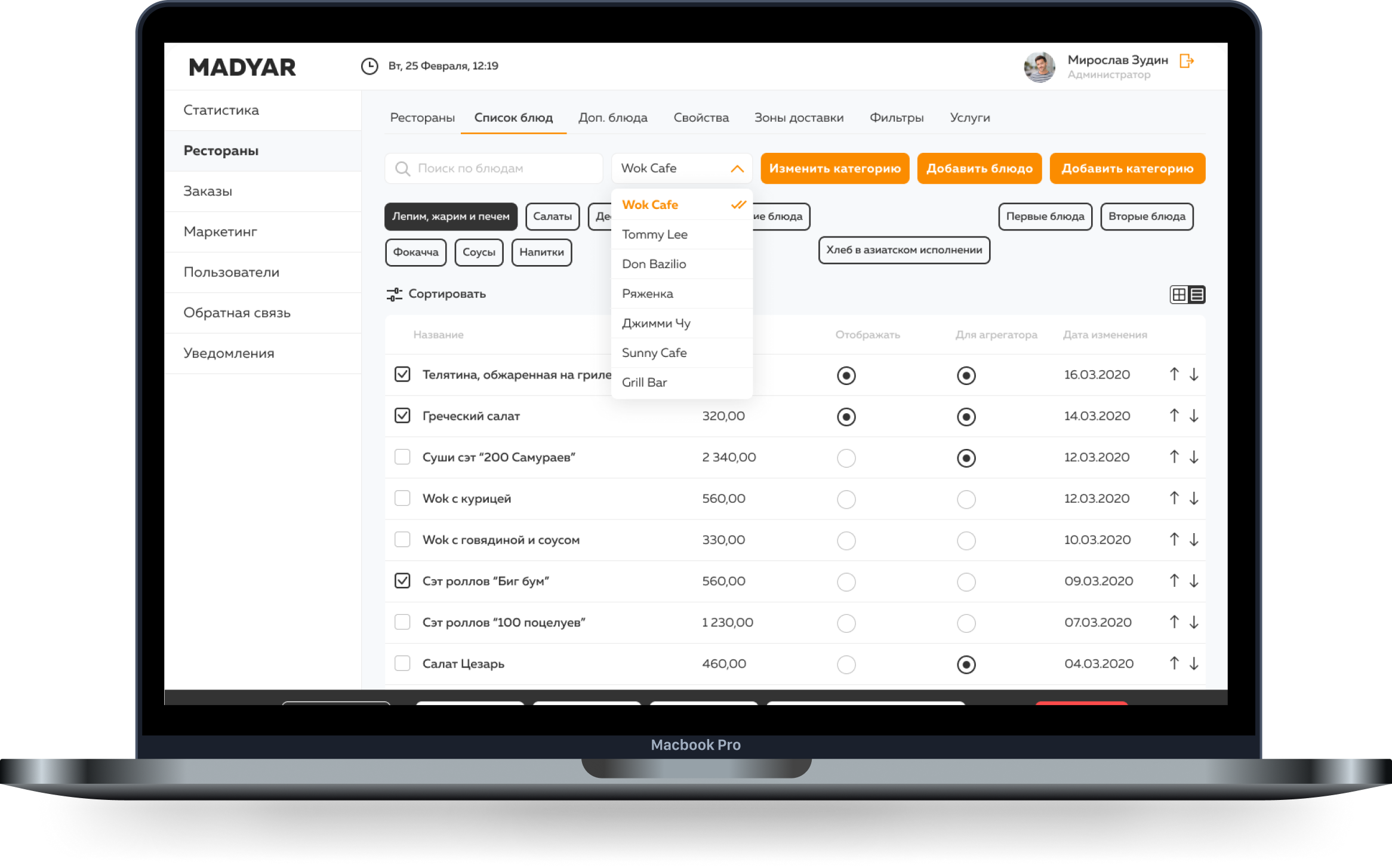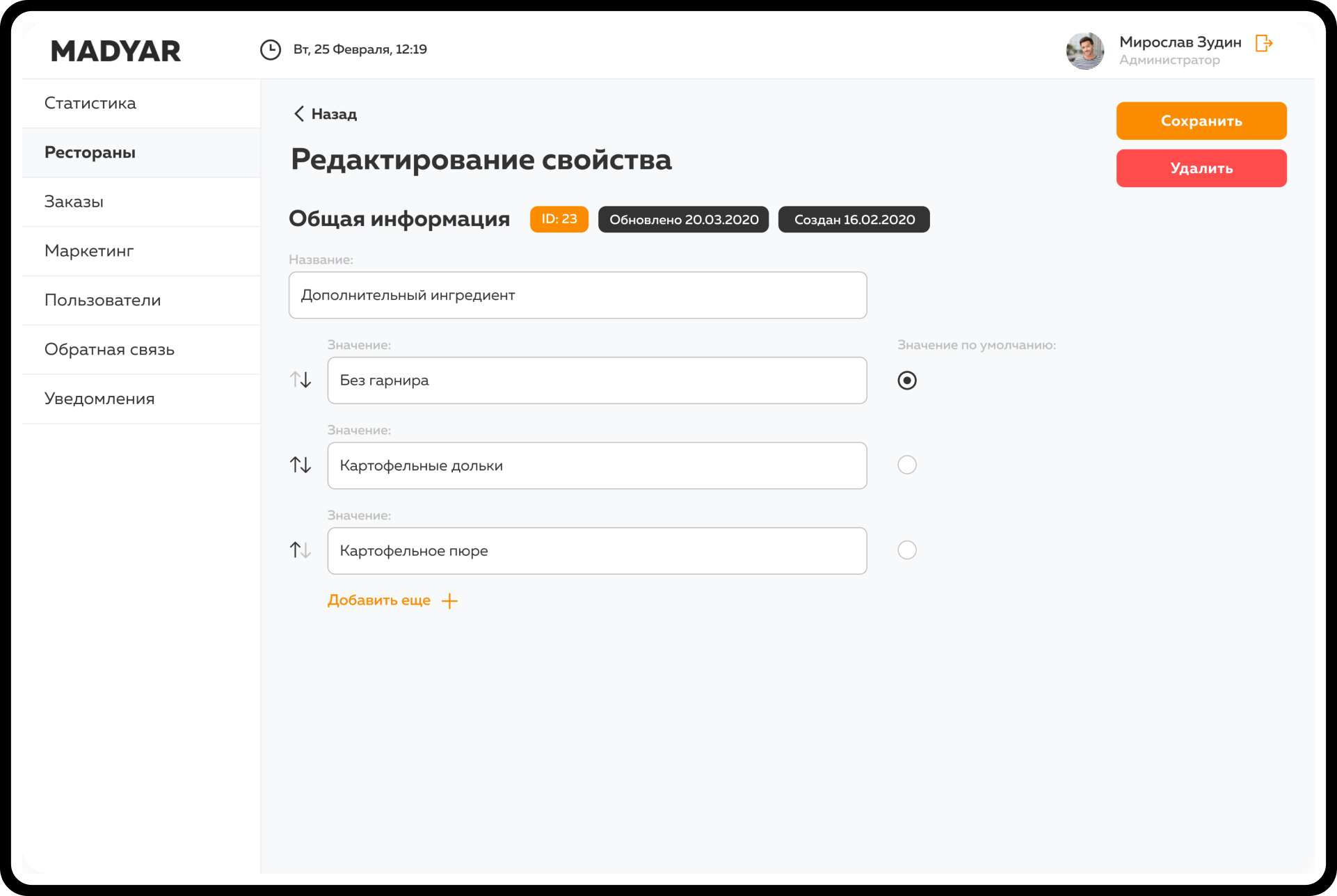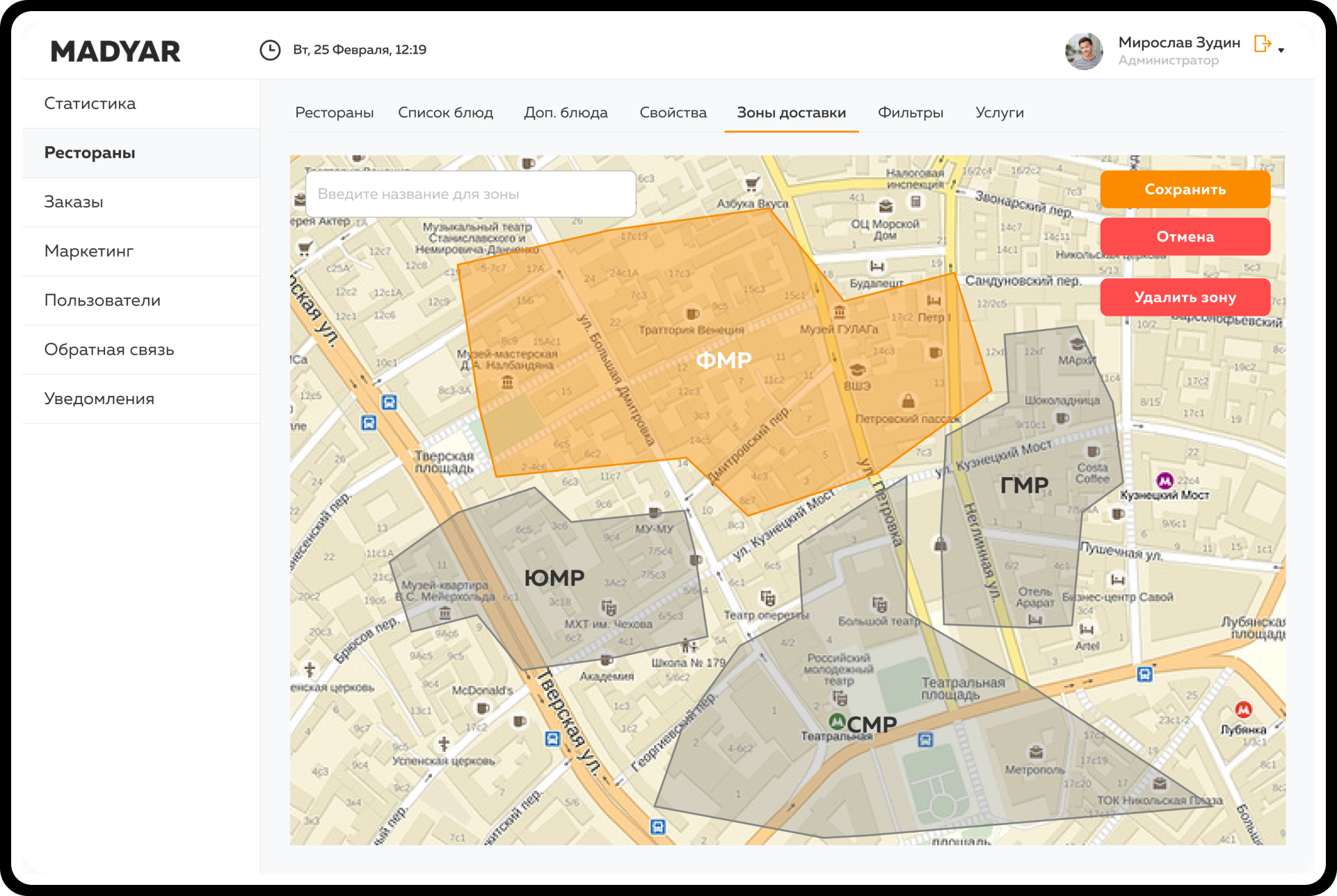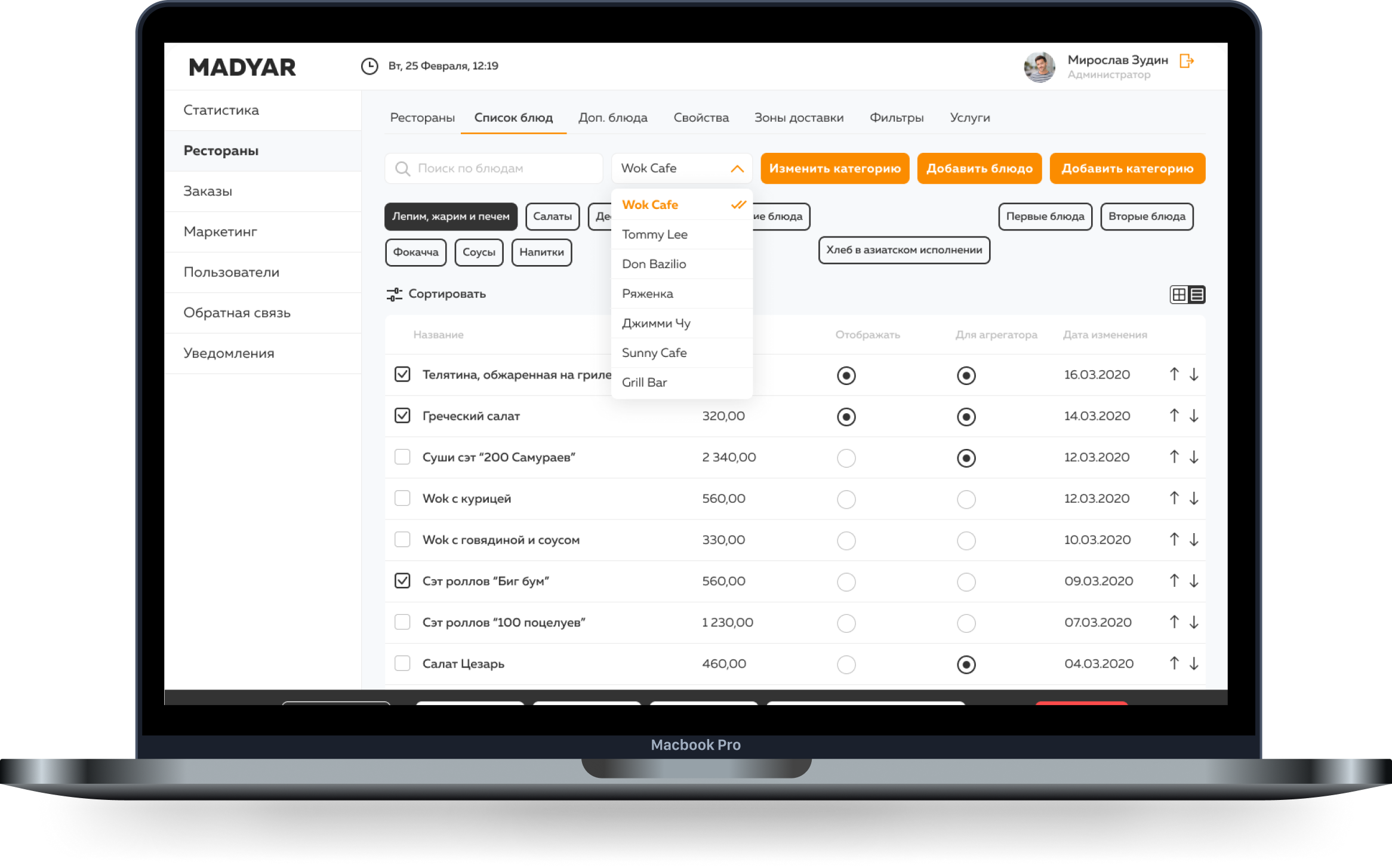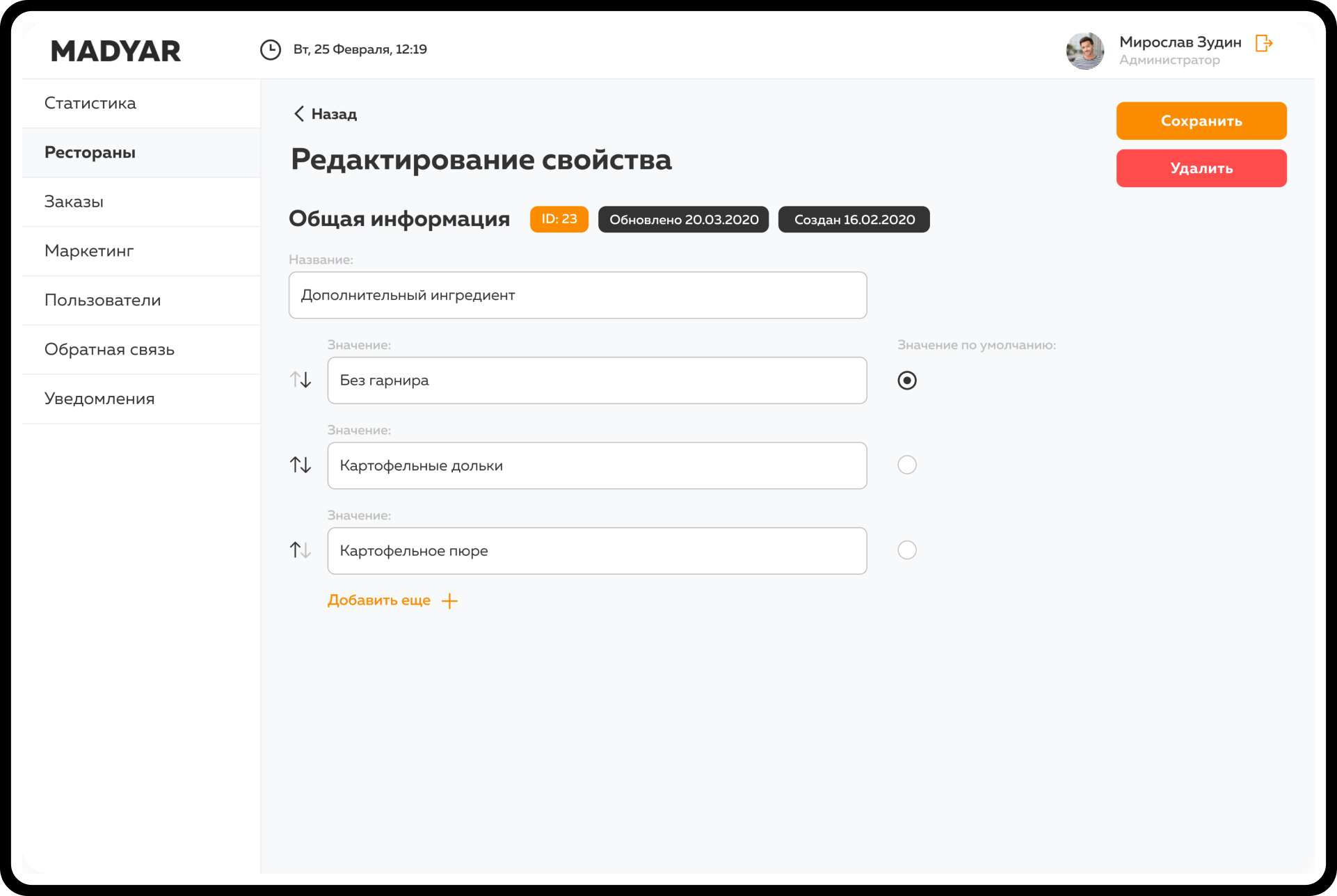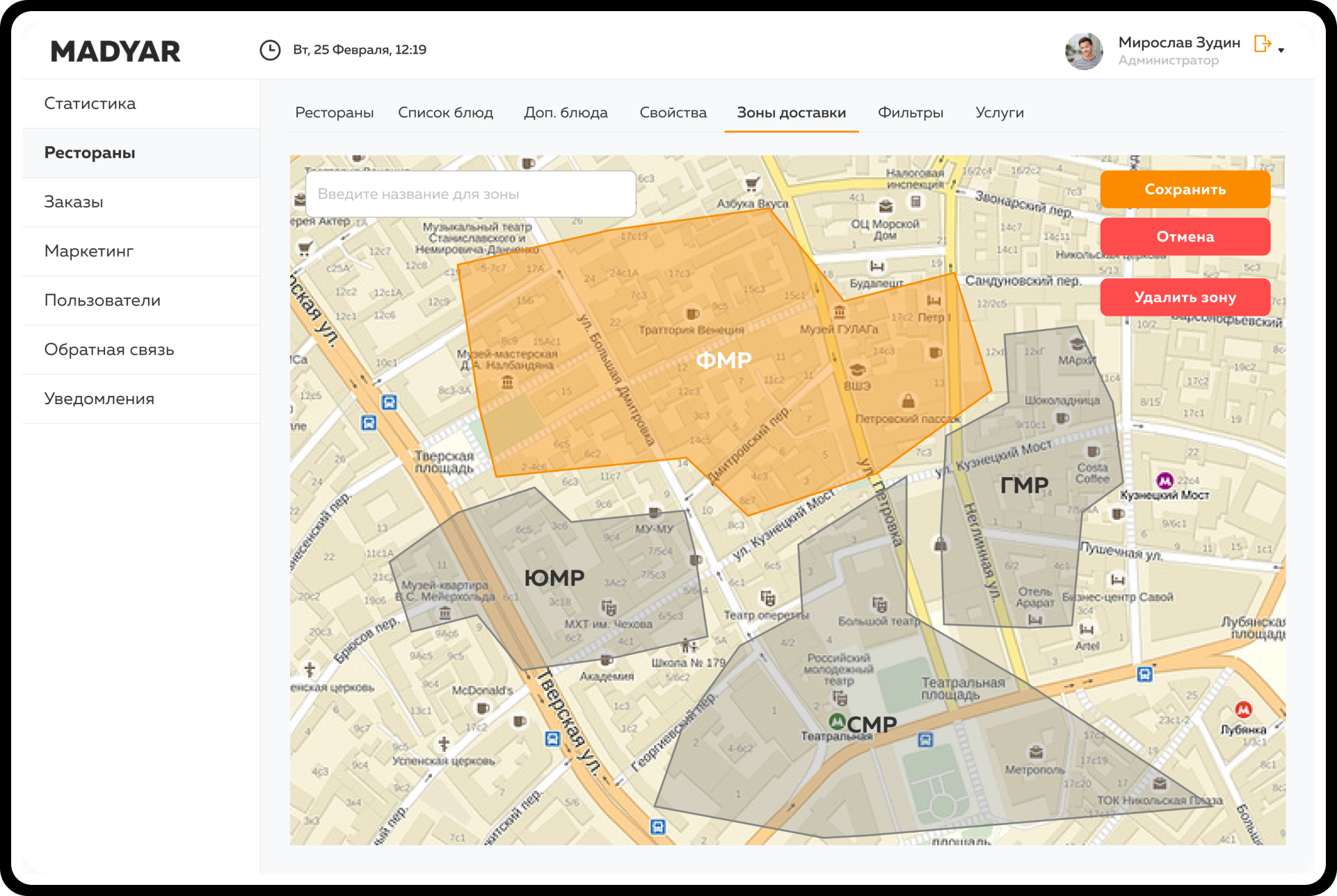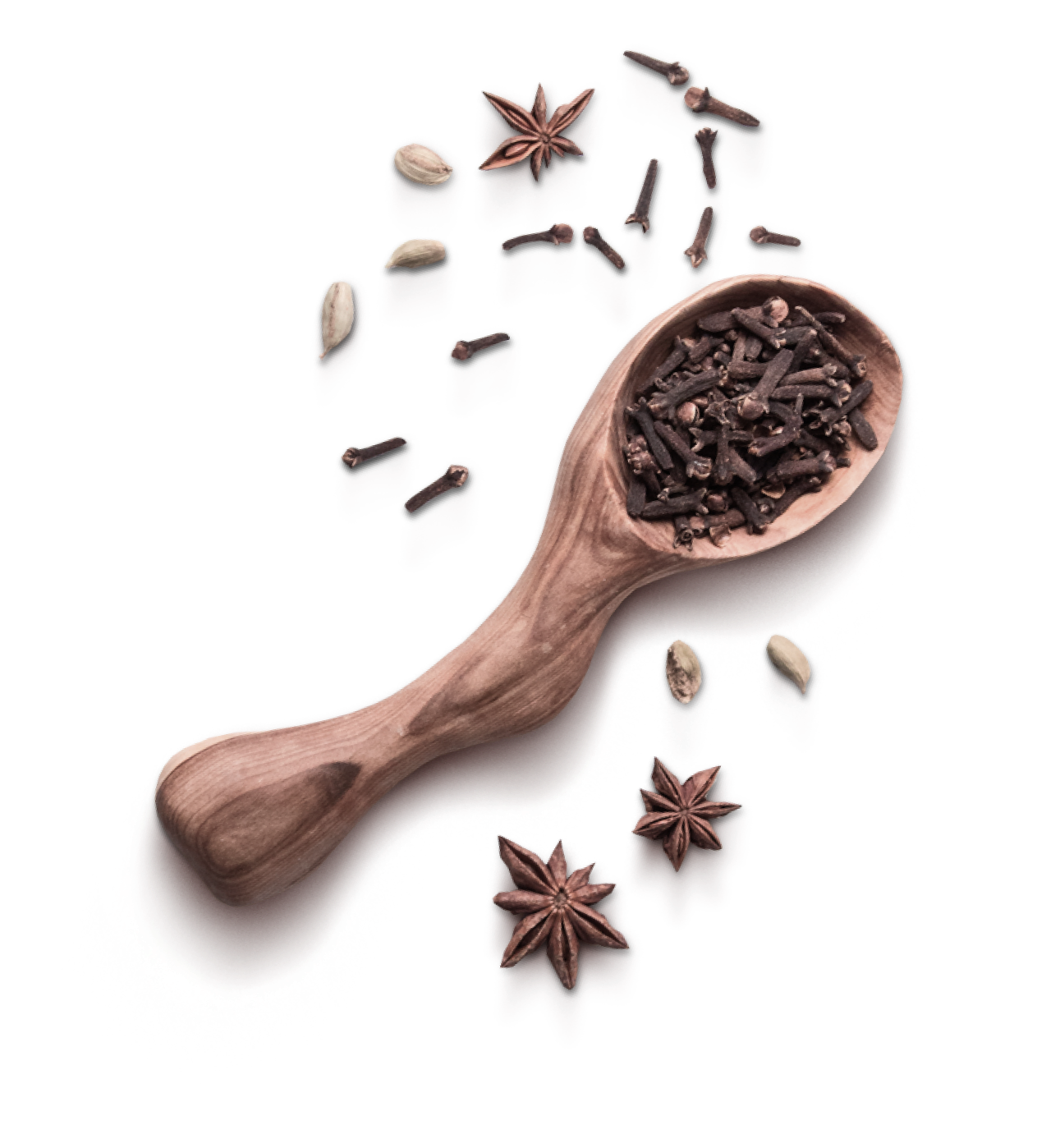 Data driven
he "Statistics" section allows you to make decisions based on measurable indicators.
Understandable data: business statistics in the charts, tables and maps with sorting and filtering options
Finance in dynamics: changes in revenue, average bill, order statistics, dish ratings, visitors' number
Widgets on the home page inform about changes in key indicators
To understand the scalability of a business, you can look at the restaurants' workload and a delivery orders' map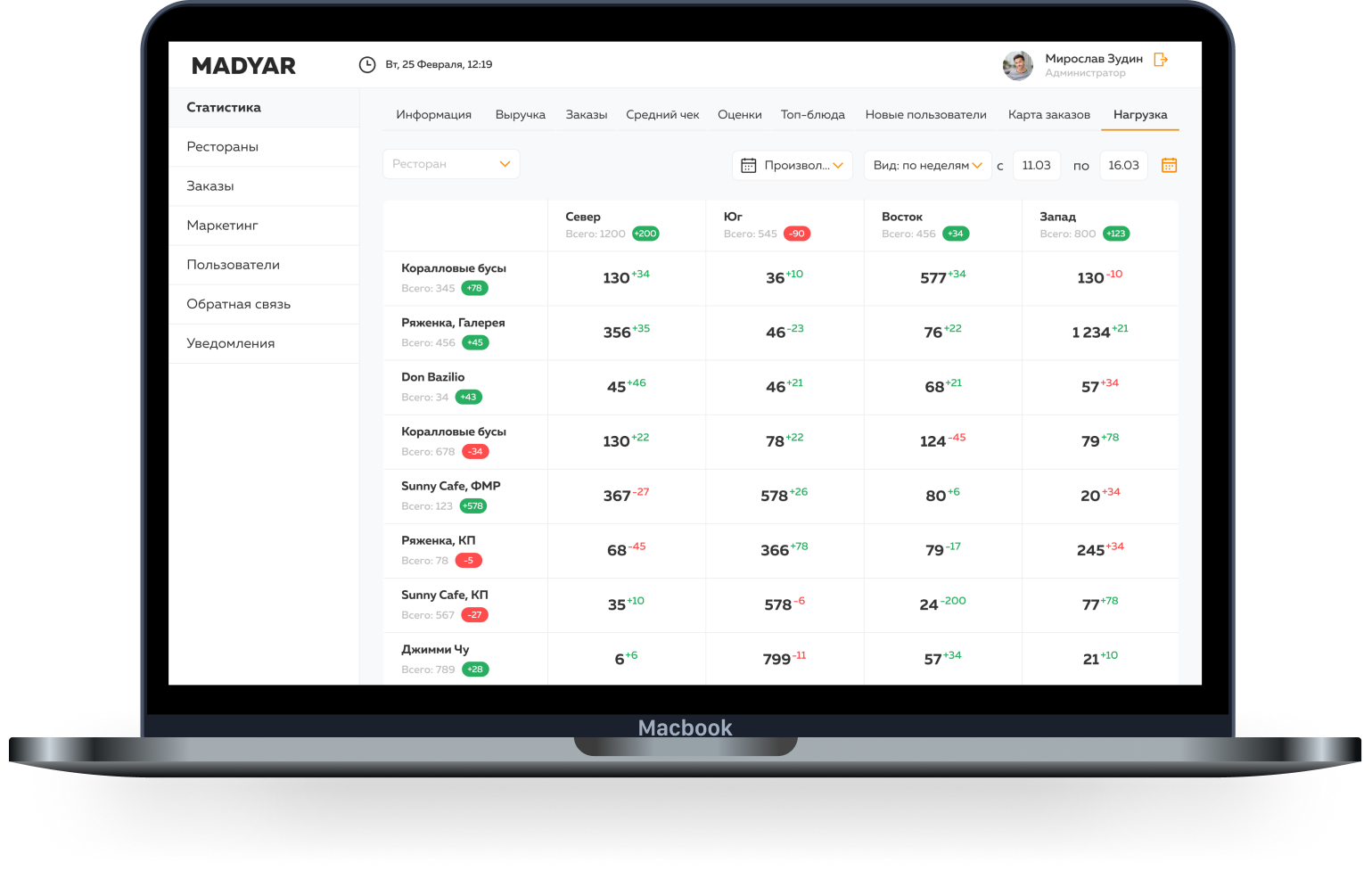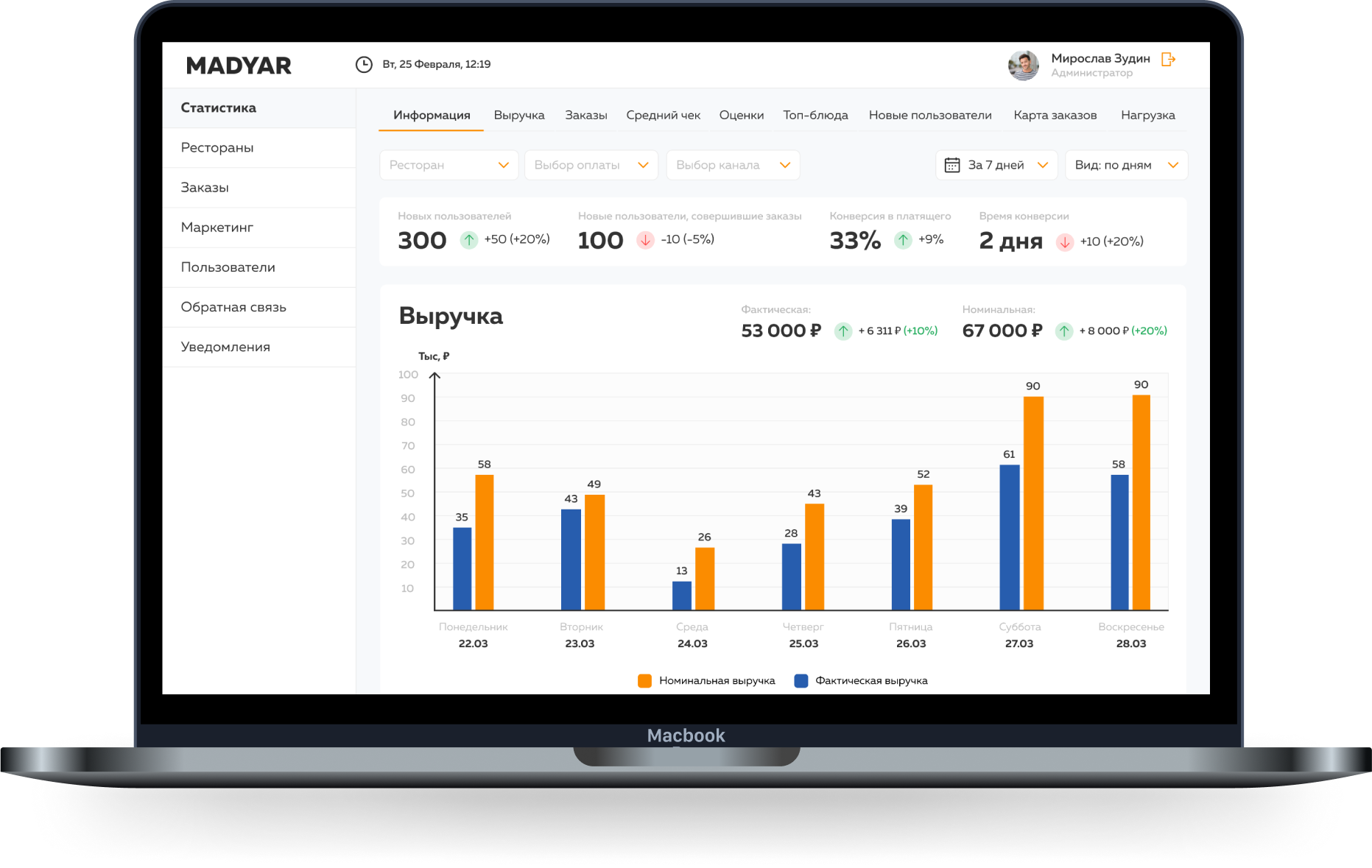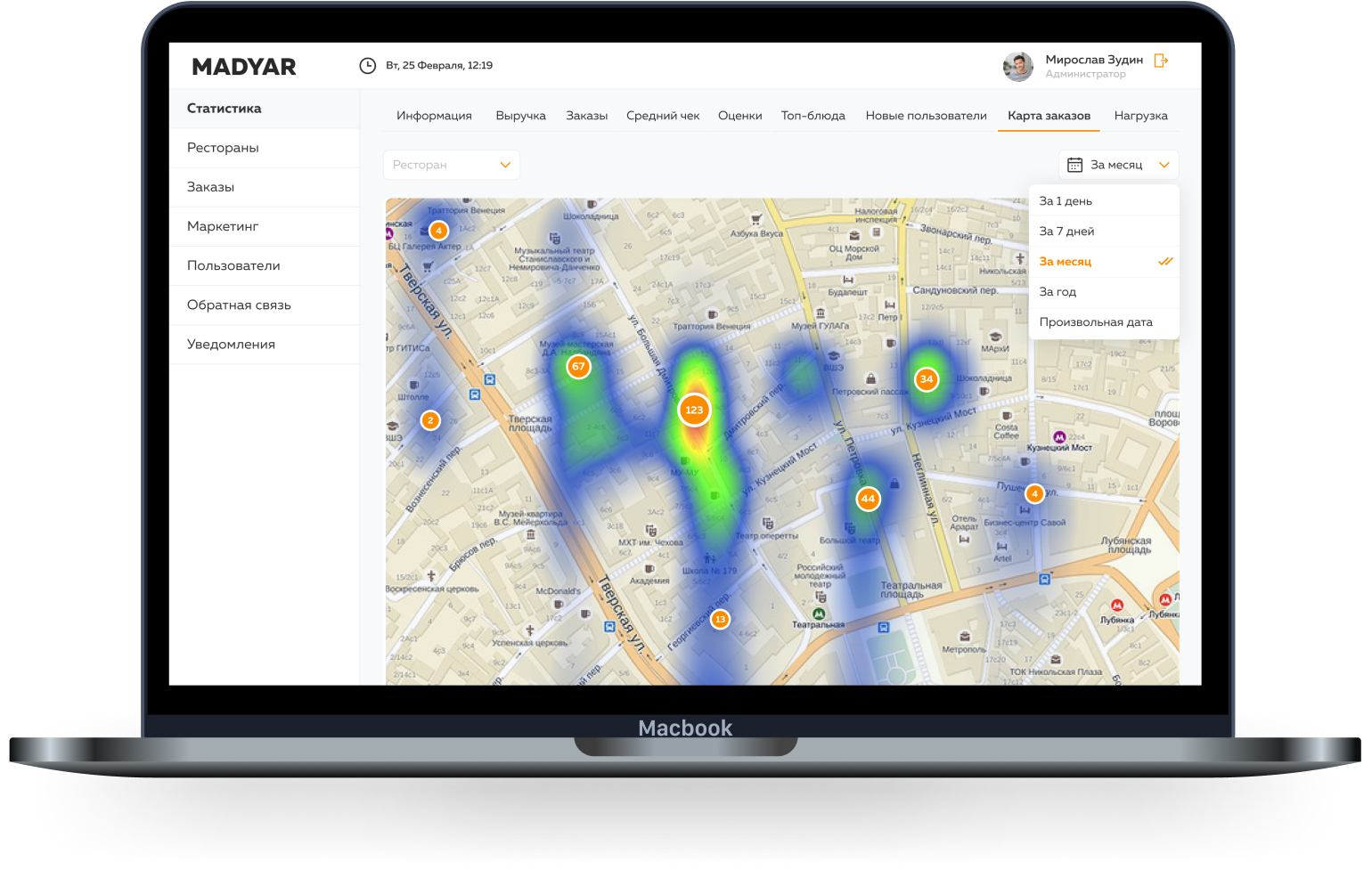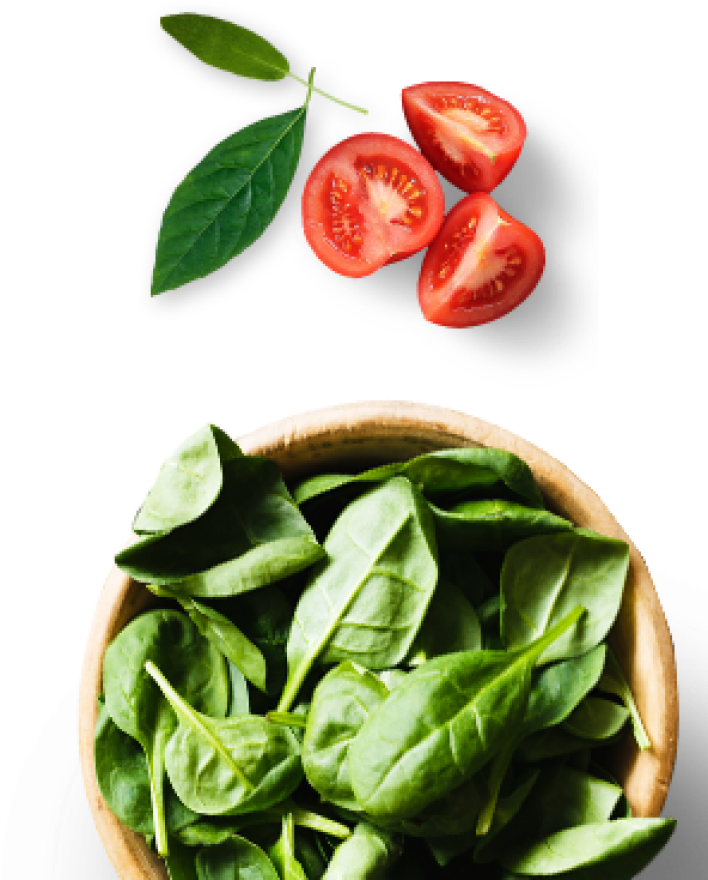 Design on service
In the "Orders" section, administrators have an interface that was designed according to their requests with the sole purpose of making order management simple and fast. Everything here is clear at a glance.
Control of orders by all parameters on one screen
Intuitive search with filters
Specific sorting by urgency
Creating an order on behalf of the client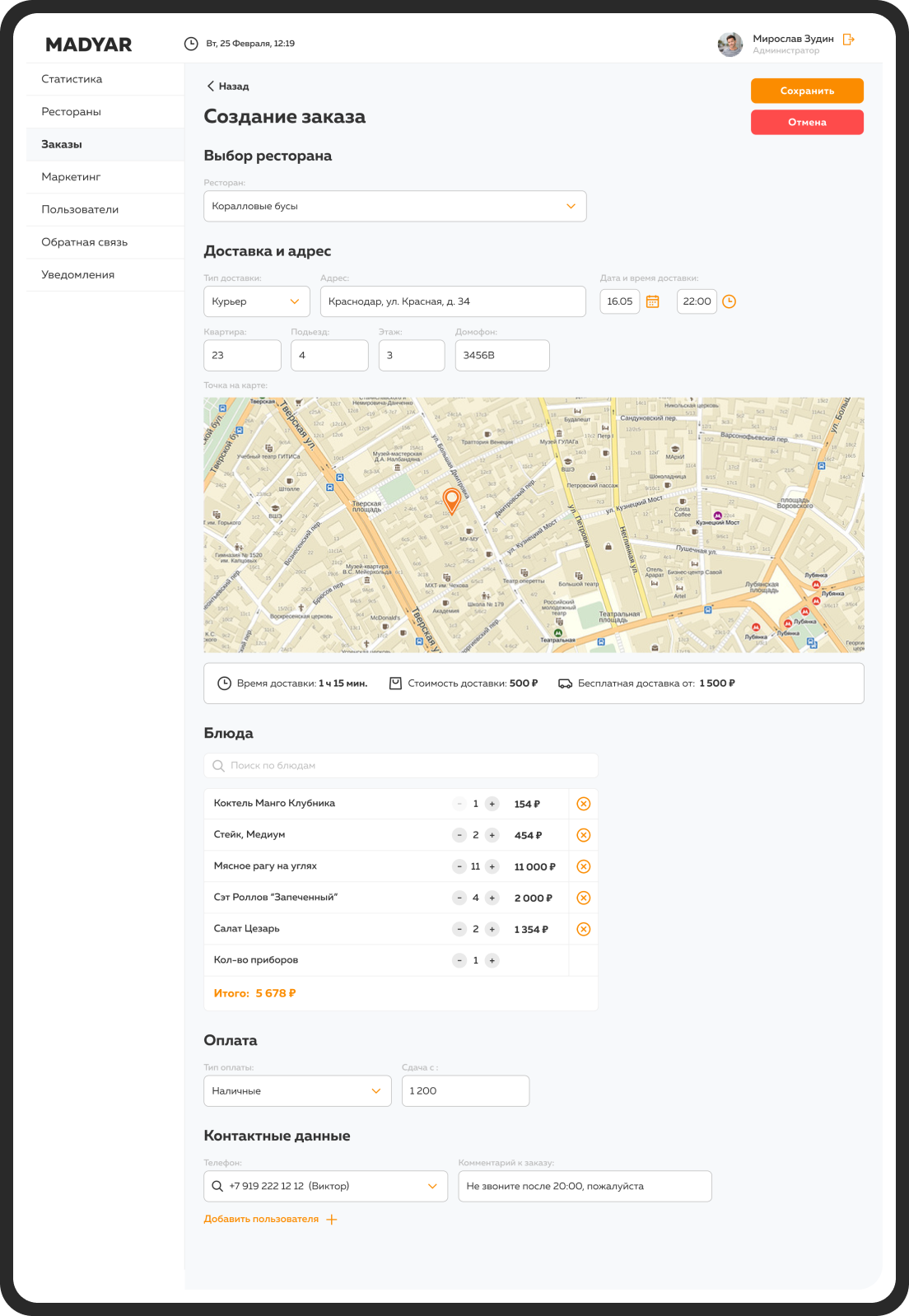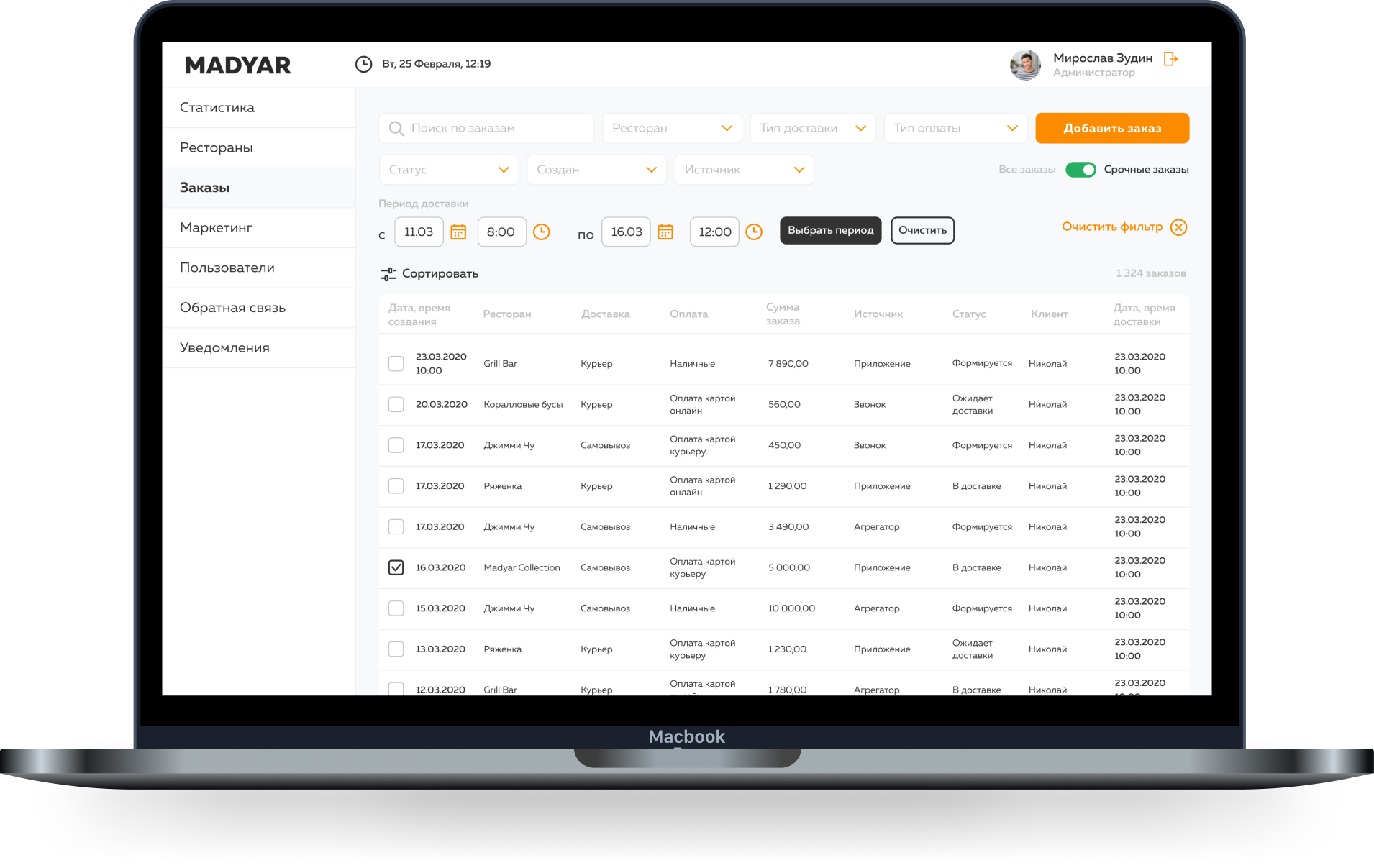 United marketing
The "Marketing" section is a marketer's office with full stack of professional tools.
Bonus types: welcome, for purchases, for reviews; as well as setting up cashback, bonus payment percentages, timing, multipliers by dates and times, accompanying messages to customers
Certificates: options to add, activate and deactivate certificates with arbitrary amounts and expiration dates
Promotions: messages about promotions in restaurants with dates of activity and banners, mass mailings conducting
Discount cards: emission of cards with any titles, prices, descriptions and designs
News: service and restaurant events, customer communication support, mass mailings for especially important events
Promo codes: managing the code of any product, its' minimum amount, validity periods, issuing codes and integrating them into marketing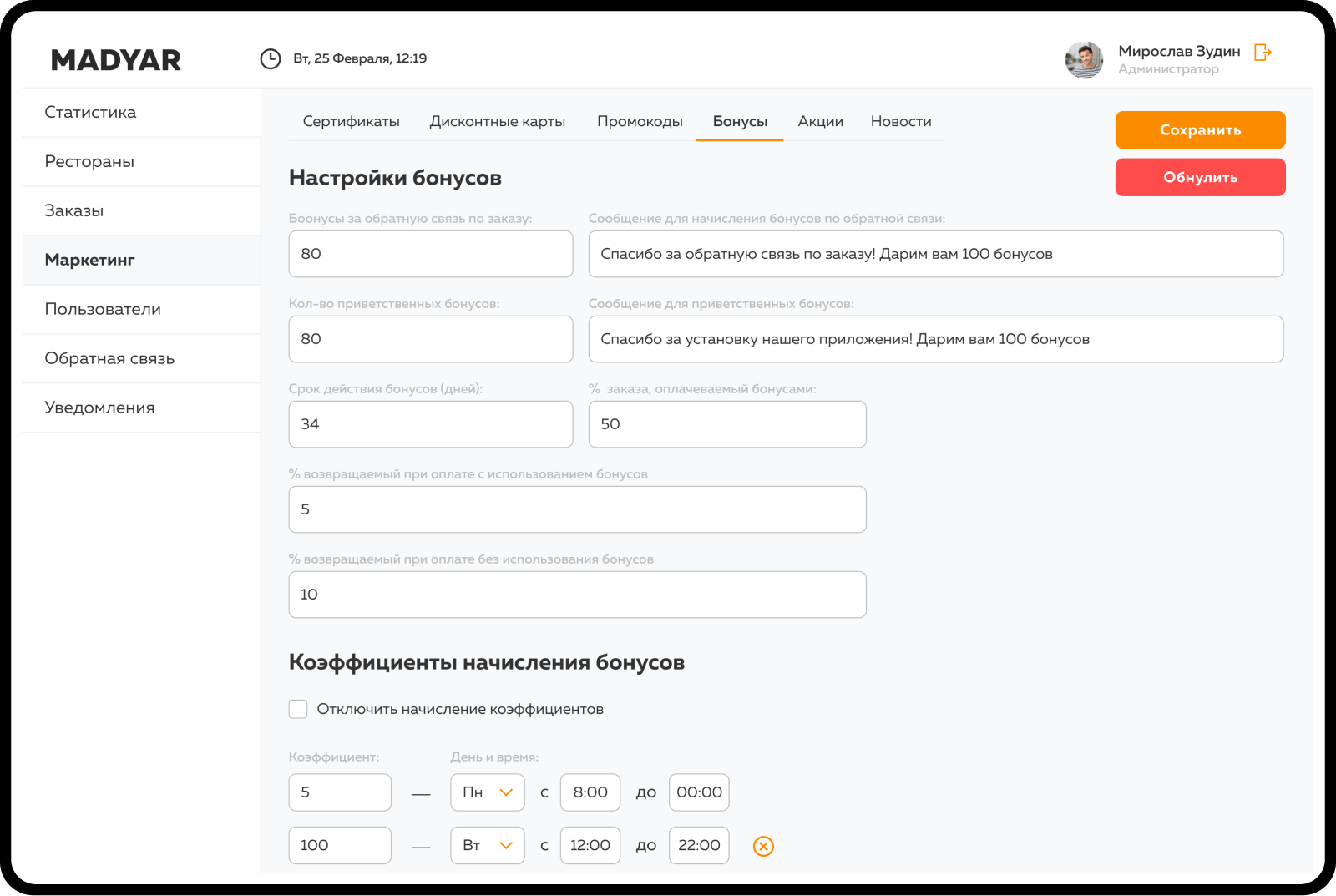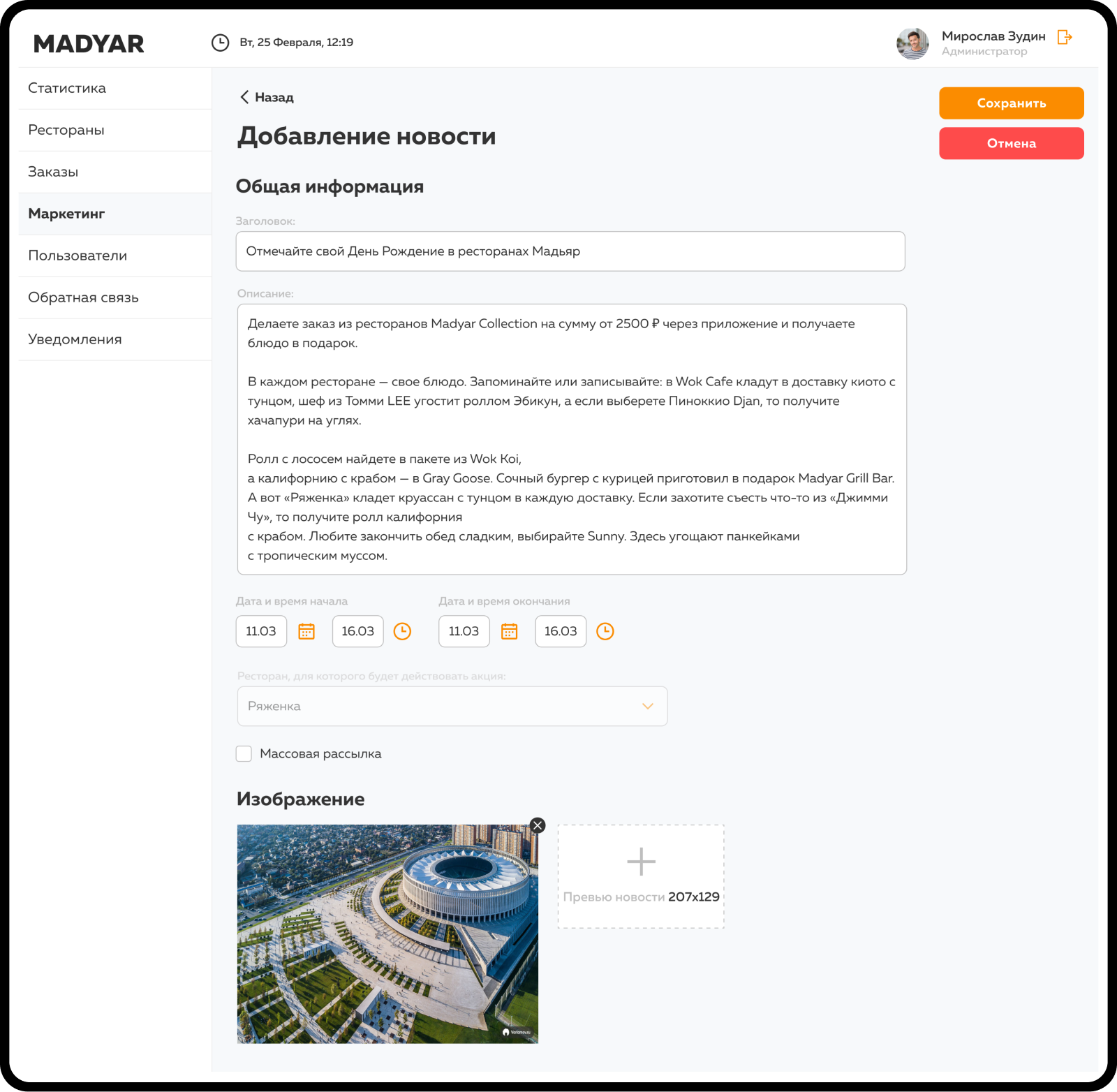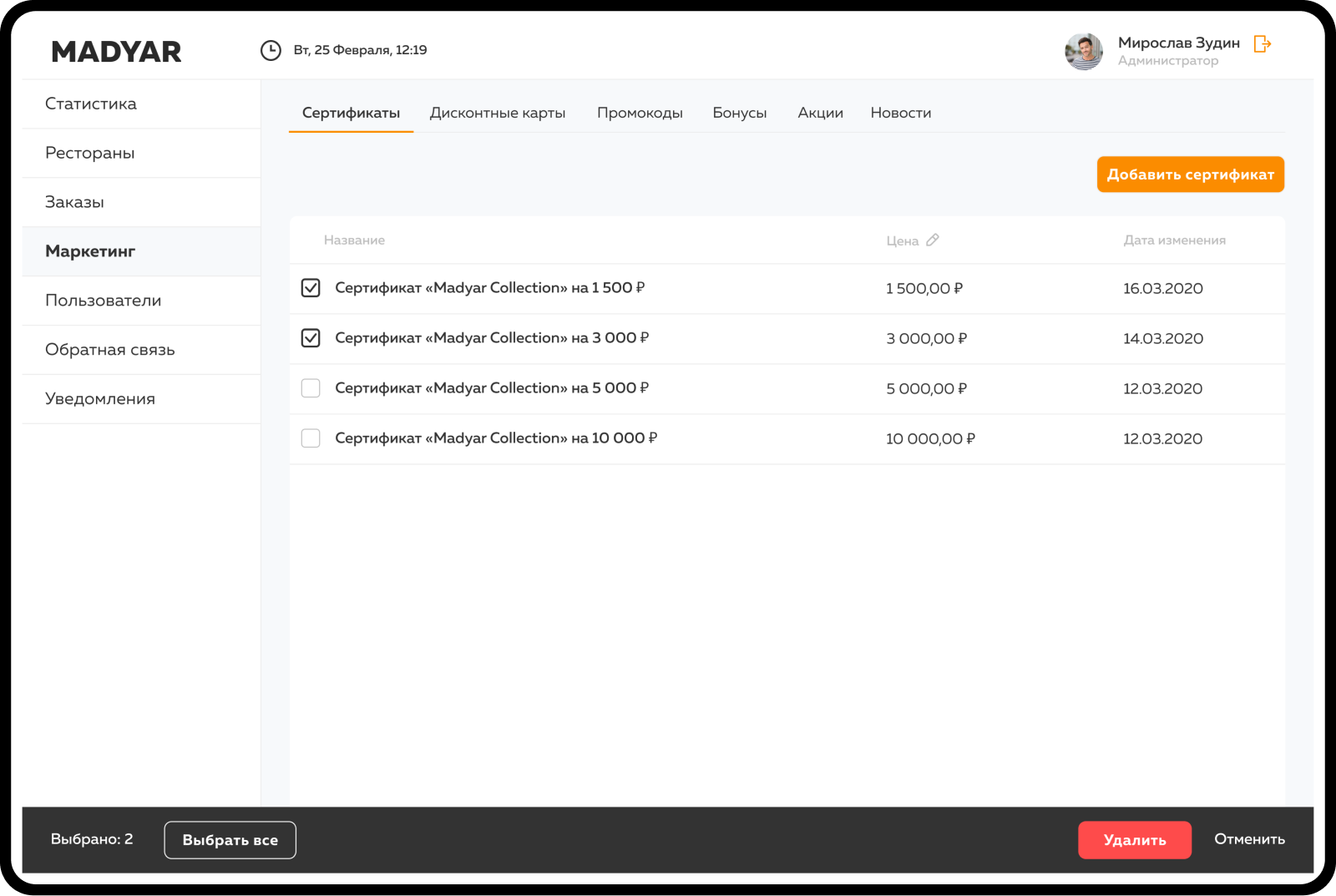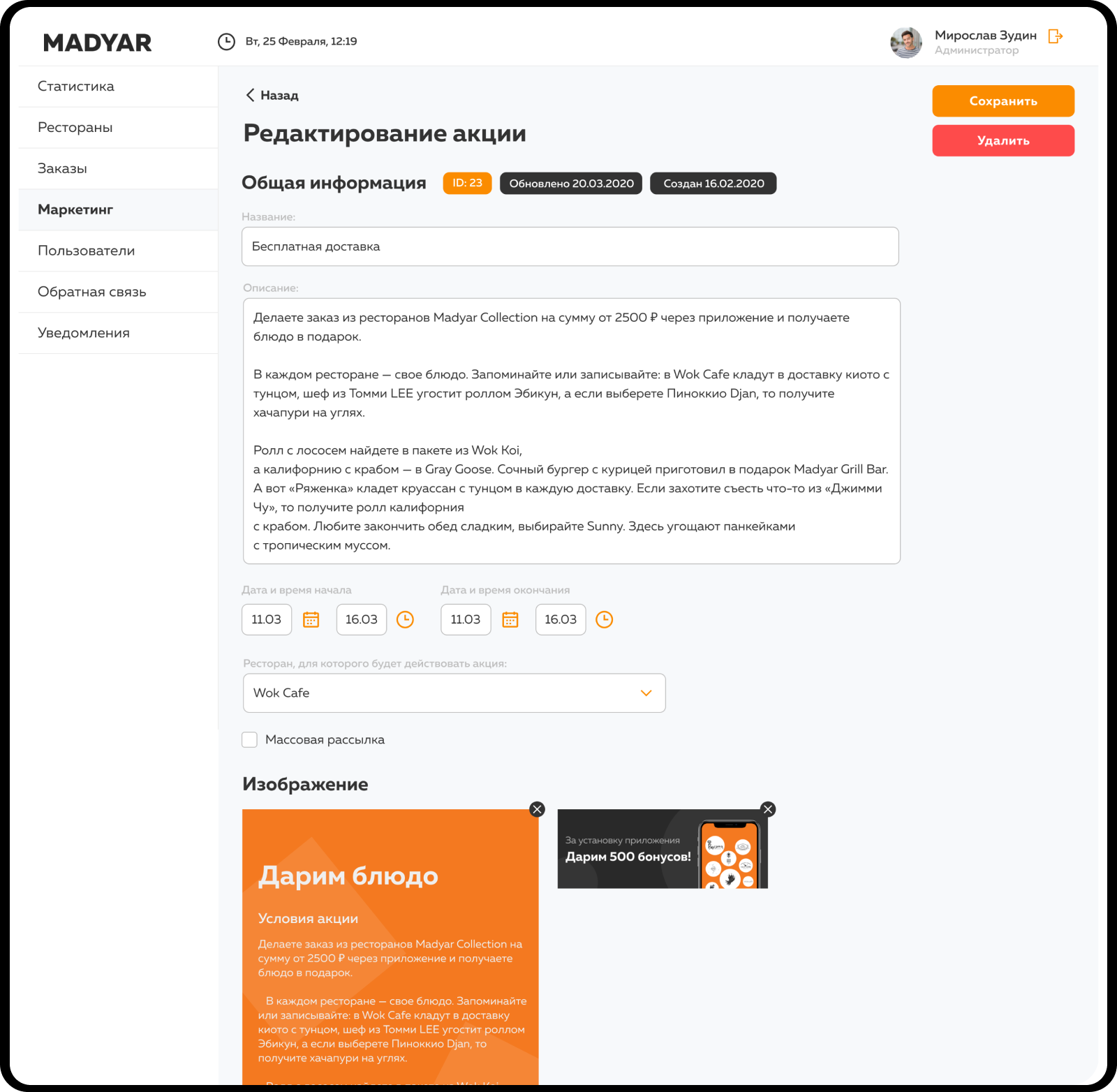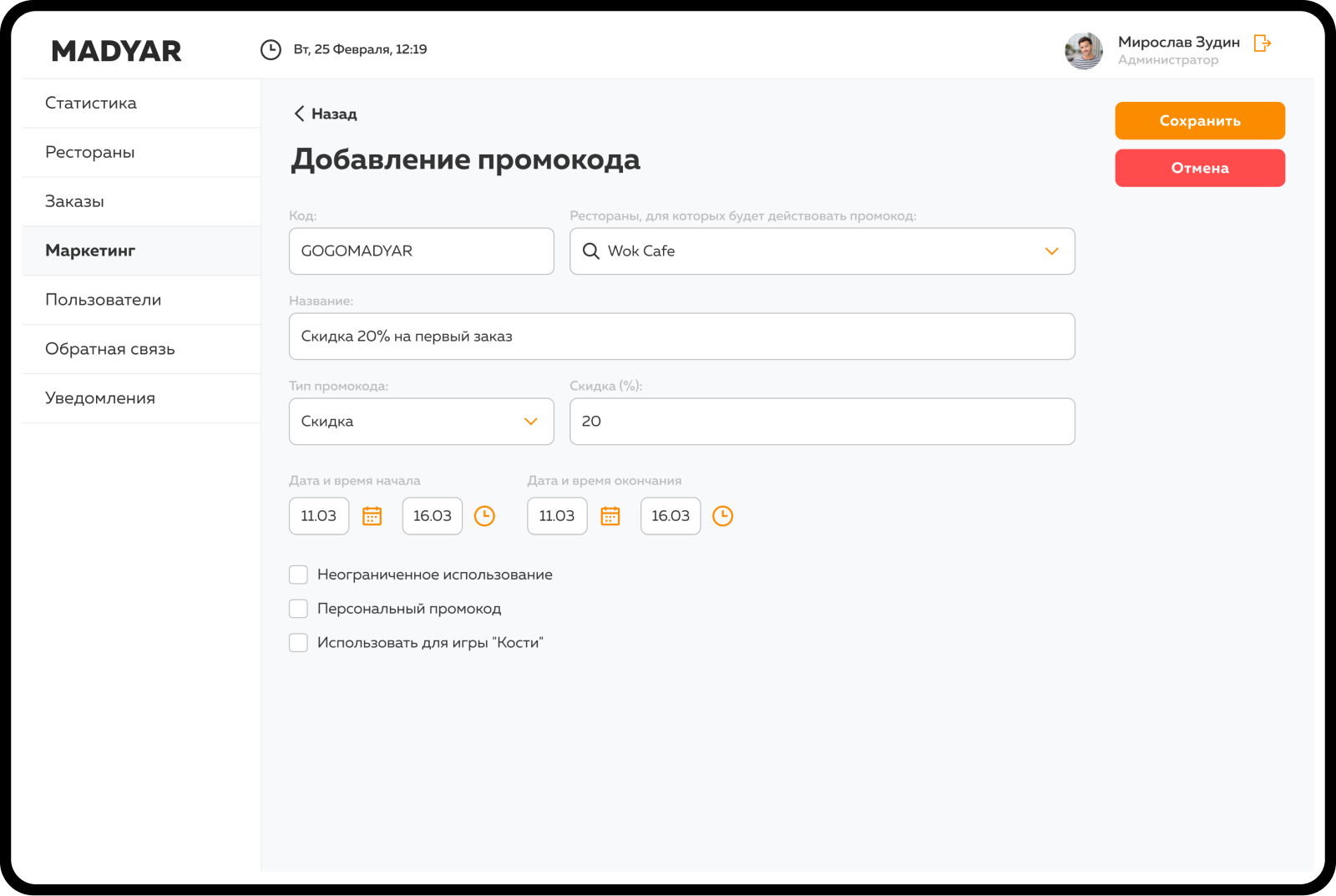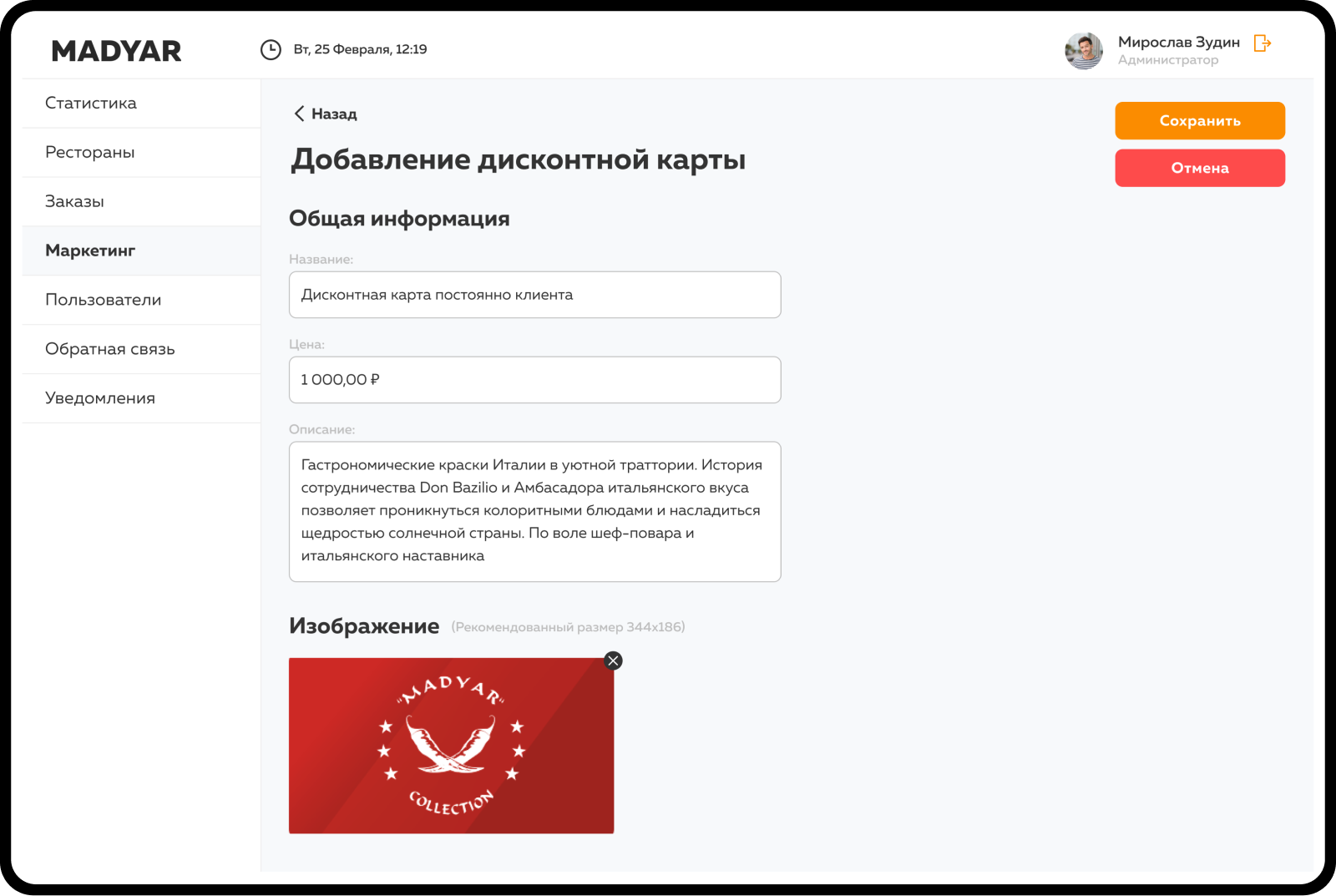 What's next
Spider Group has prepared prototypes for the next phase of the project. It includes essential functions such as managing customer personal data, working with reviews, mass and personal mailings.